lights out. almost 12am. got a text message from an unknown number. my sight was blurry as i wasnt wearing my glasses so i cant read the message but i clearly saw the picture message attached to it. a scary dead guy inside a cofin with eyes open wide. i immediately turned off my phone as i was about to cry coz im so scared.
i called kuya aaron to check the message. he saw the picture and the message says "hi friend!" i asked him to check if there was previous messages from the same number. apparently there was. one saying that they were eastwood bound sent to me last june 1.
It dawned on me that the sender was Arthur! On of my bestfriends and Caleb's godfather. I forgot that he changed his number a couple of weeks ago and I also didnt save it yet on my phonebook. I asked Kuya Aaron to delete the picture and prayed to God that I wont dream about it. I immediately texted Arthur. Ofcourse I was angry coz I got scared. I told him that I almost went on labor because of the pic he sent and guess what he told me "Sorry!!! I forgot that youre pregnant!" What the hell. The guy is crazy like that but nevertheless we can never stay mad at him. lol
I had a hard time sleeping coz im a scaredy cat and i had weird thoughts of the guy in the picture, I hate it!
This morning, I asked him to send the photo to me again. Here is how it looked liked on my phone last night.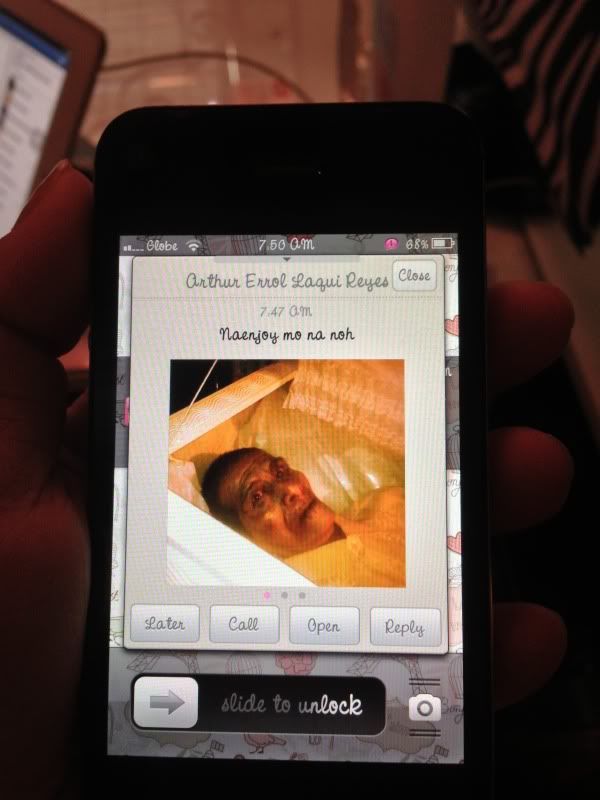 i wonder how i can get even.