While I was watching tv this afternoon, I got a text from Marijo asking me if she and Arthur can drop by to get the suit we borrowed from her. Ofcourse the answer was yes since im stucked here at home most of the time.
As we were catching up, I overheard my mom telling kuya dan what she wanted to order at Zark's. Being the pregnant woman that I am (i am hungry most of the time) I mentioned that I want the bacon-wrapped burger that I saw from one of my facebook friends who posted a picture way back (Sorry ! Cant remember who! lol). My mom then reminded me that what she will order is for tomorrow.
Kuya Dan is actually our resident go to guy when it comes to house maintenance and the likes. He is absolutely the jack of all trades. An electrician, a carpenter, painter, cook, you name it! He is every house manager's dream. Plus, he is Caleb's god father. He has connections at Zark's burger coz he's the responsible for designing, maintaining and the over-all head of construction for Zark's Katipunan branch.
Even before it opened it's Katipunan Branch and even before I knew that Kuya Dan was working for Zarks, I already wanted to try eating there but the branches are way to far from where I live. So when we found out that they will be opening a branch near my area I already told myself that no matter what happens I will achieve Zark's.
My mom was craving for burgers tonight but her concern was if we go there, we might wait for hours because of the queue. So while looking at the online menu, I asked her, why do we have to wait until tomorrow? Why dont we just go there tonight. I asked kuya dan if he can call up zark's and ask if they can make a reservation for us (which they dont normally do). He immediately called up one of the waiters to ask if there were lots of people and if he can squeeze in a table for 5 in the queue. Suddenly, a table was reserved for us.
Anyhows when we got there, the place was packed! The diner was located at the 2nd floor and the queue was all the way down the stairs from the 2nd floor all down to the bottom of the stairs. Thanks to Kuya Dan we didnt have to go through the line. We immediately went up and sa a table waiting for us. Such a shame that I wasnt able to take a picture of the queue.
We started with an order of cheese nachos. At 65 Php it was already a great deal and a good appetizer for the 5 of us.
I ordered for the Bacon-Wrapped Burger. Seriously, If I am not pregnant, I wouldn't dare eat this. but my baby is calling for bacon and besides who can say no to bacon? Then bun was cooked just right and the burger was well done. Surprisingly, I didn't find it overwhelming at all! My cousin and I ordered for this and I jokingly told him to eat the burger and save up all the bacon for tomorrow's breakfast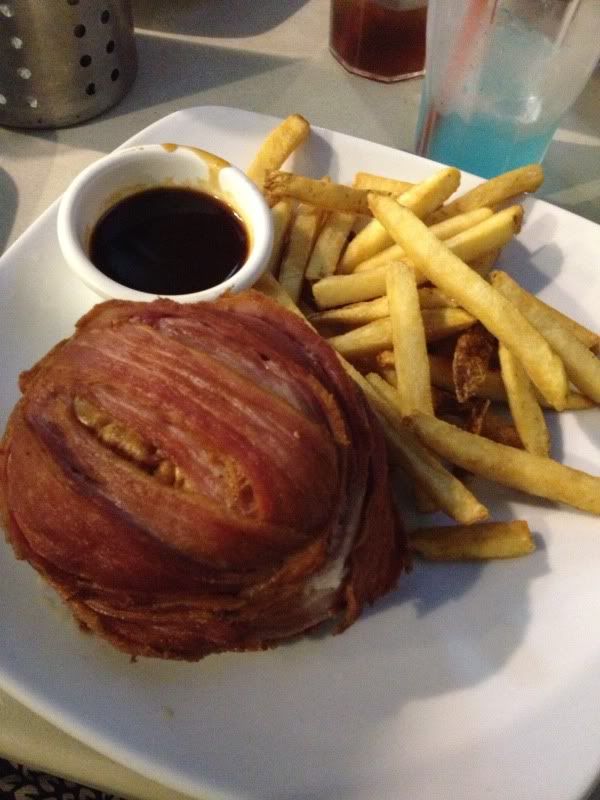 Zark's bacon-wrapped burger at 240 Php. Served with Fries and Drinks.
Mom ordered for the Blue Cheeseburger. It was big! I didnt get to taste it but mom said it was yummy but because of the serving size, she was not able to finish it and we had to have it wrapped.
The Blue Cheeseburger. Described in the menu as a burger topped with mushrooms and bleu cheese dressing 135 Php served with fries and drinks.




My sister though, who is the only thin person in our family didnt opt for any burgers tonight but chose to have desert instead and ordered for the Deep-Fried Mars. I swear to God that before I give birth, I will go back to Zark's, skip any burger and order for this instead. I tasted it and it's just heaven in a bite.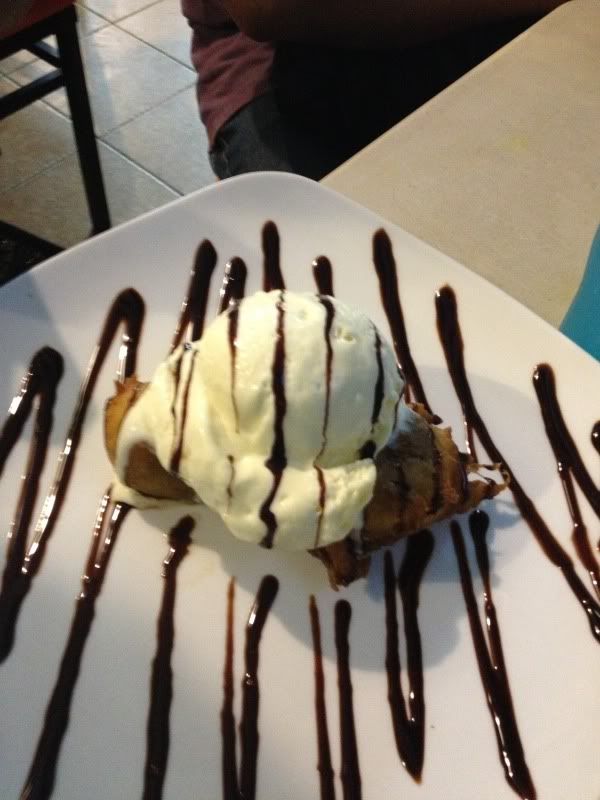 Deep Fried Mars Bar served with Vanilla ice cream and chocolate sauce. 125 Php
After this gluttonous dinner that we had, I felt guilty of eating too much, but what the heck, whats done is done and besides, the important thing is that we had fun!
Thank you Zark's Burgers! I shall return!
Zark's Burgers Branches:
Taft:
Archer's nook, Malate (In front of LA Salle Taft, same building where Yellow Cab is)
BF homes branch:
President's Ave, in front of Shawarma Snack Center
Katipunan:
In front of Ateneo, beside
Pizza hut/same bldg with flaming wings.
http://www.zarksburgers.com/